As tornadoes continue to destroy communities across the United States, CAN-DO will continue to set up CDC's (Community Distribution Centers) in many of these affected areas across the Unites States. These CDC's will be strategically set up in communities that have either been over looked or "off the grid" due to lack of news
coverage. CAN-DO, with the help of the community and local officials, will determine these areas based on pre, on the ground surveys and assessments.
CAN-DO's mission is to work directly with the residents of each community, to determine their needs and immediately set up an independent CDC, if needed, or to enhance an already existing center. We will make the location of the CDC, contacts and needs of the individual community public so that anyone wanting to help a particular community will have the resources and accurate information to do so.
Often after a disaster, once the media pulls out, it's often hard to find current and up to date information on how to get involved. The purpose of a CDC is to make the residents/survivors as comfortable as we can while creating a streamlined flow of supply to the designated area. Also, to distribute accurate information back out to the public allowing churches, business and donors the ability to determine their level of involvement and support.

Alabama Project: Pratt City - Tuxedo Height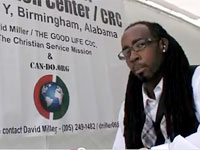 May 9th-10th:
After performing assessments in Tuscaloosa and Birmingham
CAN-DO determined after meeting with Tuxedo Heights,
resident David Miller, that we would help enhance his
distribution operation already in full swing. We found David
servicing his community and together decided to join forces.

http://blog.al.com/spotnews/2011/05/pratt_city_man_turns_his_home.html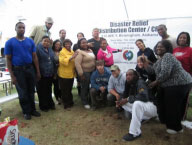 May 15th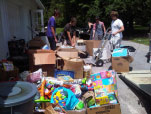 Thanks to Felicia Stallard and the help for the community of Folsom,LA CAN-DO returned to Pratt City, mobilized and began to set up and distribute much need supplies to the community of Tuxedo Heights and the surrounding area. Upon arrival CAN-DO with the help of the residents set three 10x24

distribution tents, a 30ft trailer and truck filled with supplies and donated items from the people/schools of Folsom, LA- Thank you to Felicia Stallard for stepping up and making this possible!
If you would like to send supplies or donation directly to the this CDC please contact us at can-do.org or you can contact Mr. Miller directly dmiller06@gmail.com . If you wish to send supplies to this location you can send them to:
C/O CAN-DO/David Miller
512 Ave Y, Birmingham, Al, 35214
Other distribution centers in the area that are receiving and distributing supplies are:
Scott Elementary - Corner of Beech Ave & Hibernian St. Birmingham, AL 35222
Contact: Luther Danzy (Director) (205) 903-4104
Christian Service Mission - 3600 3rd Ave S Birmingham, AL 35222
Contact - Tracy Hipps (Director) (205) 252-9906
*** With your help, this list continue to grow as more CDC's are set up.
CAN-DO has set up a CDC fund and will use 100% of donations collected, towards the installation and set up of the "CDC" and on site distribution. Also, when possible, we will stream live, via VirtualVolunteer.TV, allowing our donors to see the immediate impact they are making on the ground as the set up and distribution takes place... without the Red Tape!

April 25th-28th Tornado outbreak:
An extremely large and violent tornado outbreak, the largest in United States history and popularly known as the 2011 "Super Outbreak", occurred from April 25th to 28th, 2011. A total of 327 tornadoes have been confirmed in 21 states from Texas to New York, with isolated tornadoes in Canada. The outbreak has affected the Southern, Midwestern, Northeastern, and Southeastern United States, leaving catastrophic destruction in it's wake. These deadly tornadoes have been especially destructive in the state of Alabama. These are the deadliest tornadoes recorded in the US in 37
years, with more than 200 people dead in Alabama alone. The level 5 tornado that ripped through Alabama was reported to be 1-mile-wide with winds topping 200 mph.